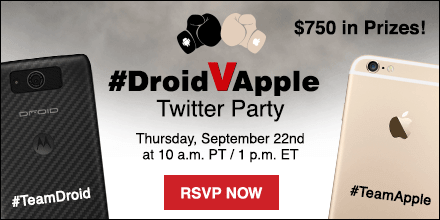 I have a new cell phone. That isn't anything earth-shattering, I know. I have always been a Mac girl but I have never owned an iPhone, until now. I never thought they were all that different from any other smartphone. I was wrong. I love my new phone. This is the phone I got:
I don't mind that they just released a new iPhone 7, although I know many of you would like the newer version. So what do you say? Are you Android or Apple? Vote for #TeamDroid or #TeamApple. http://www.savings.com/verizonwireless
You can also join the #DroidVApple Twitter Party. Don't forget to RSVP.
Include the following information:
#DroidVApple Twitter Party
Thursday, September 22nd at 1:00 PM ET / 10:00 AM PT
RSVP here bit.ly/DroidVApple for a chance at $750 in prizes!
This is a sponsored post