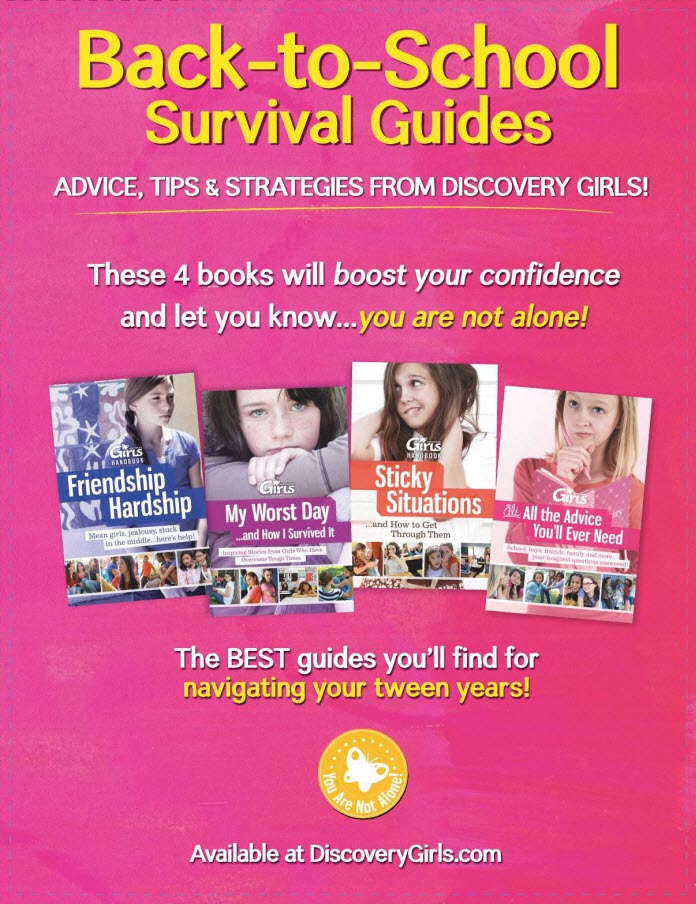 Have you heard of Discovery Girls Magazine? Well, they have written four Handbooks for teen girls. The content is age appropriate and offers advice as well as quotes by girls their own age. It shows that they are not alone and that others think and feel the same way. This can come as a real blessing for girls who are at the prime of dealing with hormonal changes both physical and emotional.
The four titles are Sticky Situations, Friendship Hardship, All the Advice you will ever need, and My Worst Day…and how I survived it. Each title sells for $9.95. These titles are geared towards girls age 8 and up. They are from the creators of Discovery Girls magazine and are the winners of multiple iParenting Media Awards and 2011 NAPPA and Mom's Choice Gold Awards.
These may just be what your daughter needs. I would suggest striving for open communication. Sometimes it is hard to get our teens to talk openly with us and these books might just provide that bridge to get the conversation started. Personally, I would love to see a similarly written book that included religion as a part of the discussion as well.
If these books sounds like something your daughter might just like, I urge you to check them out at DiscoveryGirls.com
Discovery Girls have offered one lucky Try it – Like it winner a copy of all four titles. Use the link below to enter.